55 inch Totem LCD Touch Screen Digital Signage
Display specification
Panel type
A grade LED LCD panel
Resolution
1920*1080(Horizontal) 1080*1920(Vertical)
Brightness
400cd/m²
Contrast ratio
2000:1
Display proportion
16:9
Response time
less than 5.5 ms
Color
16.7M
Refresh frequency
50/60Hz
Viewing angle
178° * 178°(Horizontal*Vertical)
Light bulb life
more than 60000 hours
Size Option
21.5" 32" 43"/42" 49"/50" 55" 65" (Regular size, other size require please contact)
Configurations
Standalone Version

Support SD card to play content

Interface: USB 2.0*2, HDMI optional

Network Version1

(Android system)

Support upload content by Management System(EASY TO OPERATE)

MotherBoard: 358/ RK3288/RK3399

RAM:1G/ 2G/ 4G optional

ROM: 8G/ 16/ 32GB optional

Interface: USB2.0*2, Lan*1, WIFI*1, HDMI optional

3G, Bluetooth optional

Network Version2

(Windows system)

CPU: Intel I3/ I5/I7

RAM:4G/ 8G/ 16G

Hard disk: 32GB/ 64GB/ 128GB/ 256GB

Interface: USB2.0*2, Lan*1, WIFI*1, HDMI optional

3G, Bluetooth optional

In Addition
Infrared touch or Projected Capacitive touch could be installed based in Network Version
Touch panel specifications
Touch type
Infrared touch or Projected capacitive touch
Response time
8MS (IR Touch) or 5ms (PCAP touch)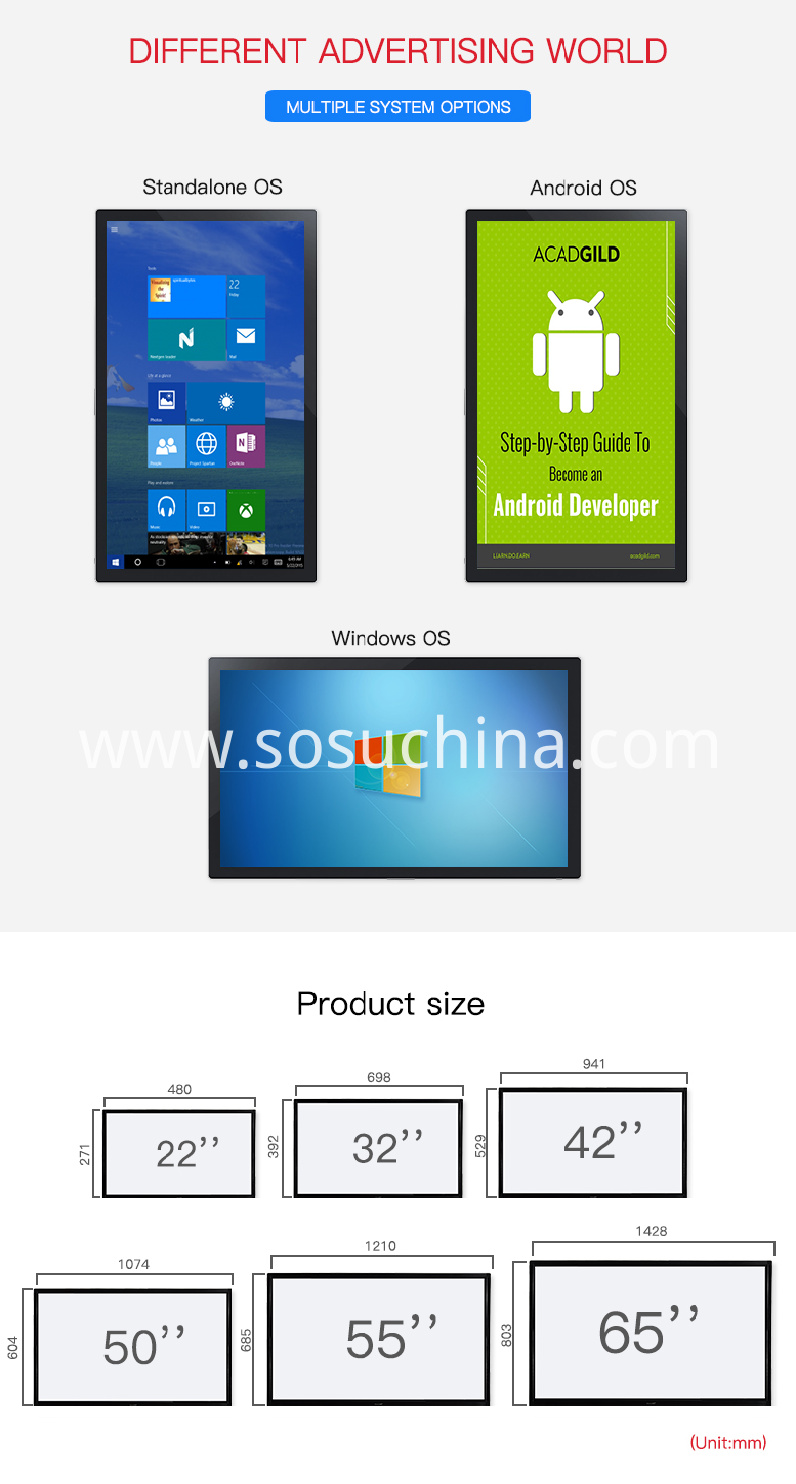 Standalone Version:
Auto power on/off, electronic clock & data,split-screen and fixed template display setting
1.Intelligent Split Screen:
Fullscreen, split into 2 parts, split into 3 parts, support video rotate
2. Rolling word, permanent company logo, date, calendar, time display, help you display your advertisements in all ways
Network Version:
Through the computer at any time to change the advertising machine play content,add a variety of professional play effects,such as rolling subtitles,text,web pages,pictures,videos,background music,time, countdown,weather,streaming media,background pictures,mixed media,logo materials,PDF,DOC documents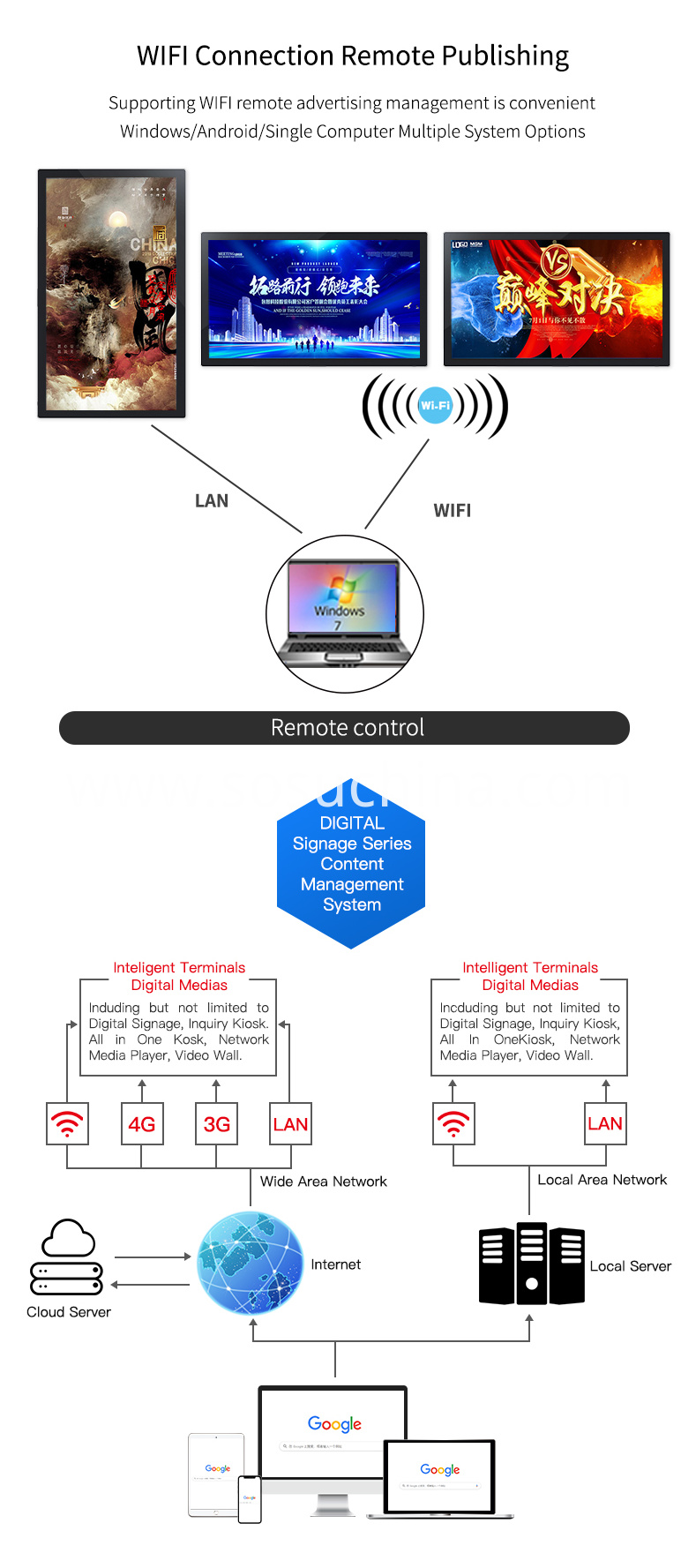 Touch Version:
Here are two options for reference:
1. Infrared touch, let us say IR touch, compared with Projected Capacitive touch, the IR touch will be more economic.
2. Projected Capacitive touch: compare with IR touch, It does not need to use vertical and horizontal to determine the number of points. It is faster in use. Faster response and faster fix the points, that is why it is higher than IR touch.
Ir touchpoint: 4-8 point
PCAP touch: 10 points